Today is "Alaska Day" and "No Beard Day", but I think that we should celebrate when Alaska became part of the United States rather than there should be no beards.  I mean my son and son-in-law both have beards.  That would be sort of hypocritical.  Don't you think?

*** Alaska Day marks the anniversary of the formal transfer of the territory from Russia to the United States and the raising of the United States flag at Sitka on October 18, 1867. It is usually celebrated on October 18 each year.
After 68 years of Russian rule in Sitka, Alaska, the Russian flag at the governor's house was lowered on October 18, 1867, and replaced with a United States flag. Two years before, the transcontinental telegraph line reached Sitka, and old expansionist dreams were rekindled. The United States bought the territory for 7.2 million dollars. Many Americans thought this was a waste of money and called Alaska "Seward's Folly", after William Seward, the state's secretary who championed the purchase.
Little happened to interest the residence of the rest of the United States until gold was discovered in the Klondike in 1897. The gold rush era in Alaska began with the gold discovery by Joe Juneau and Richard Harris. Soon hundreds of prospectors poured into the site that later became Alaska's capital city. In 1897, gold was discovered on the Klondike River in Canada. About 10,000 fortune seekers headed for the Klondike gold fields. Many of them hiked from Skagway across the Chilkoot Trail. In 1898, gold was found on the beaches near the Alaskan city of Nome. A city of tents sprang up overnight and by 1900, 232 ships had arrived in Nome carrying nearly 18,000 prospectors.
During World War II, Alaska's strategic position was important. By the time Japan invaded the Aleutian Islands in 1943, more than 140,000 military personnel were stationed in Alaska. The Aleutian campaign, known as the "One Thousand Mile War," was the first battle fought on American soil since the Civil War. Alaska maintained its status as a territory until it became the 49th state of the United States on January 3, 1959.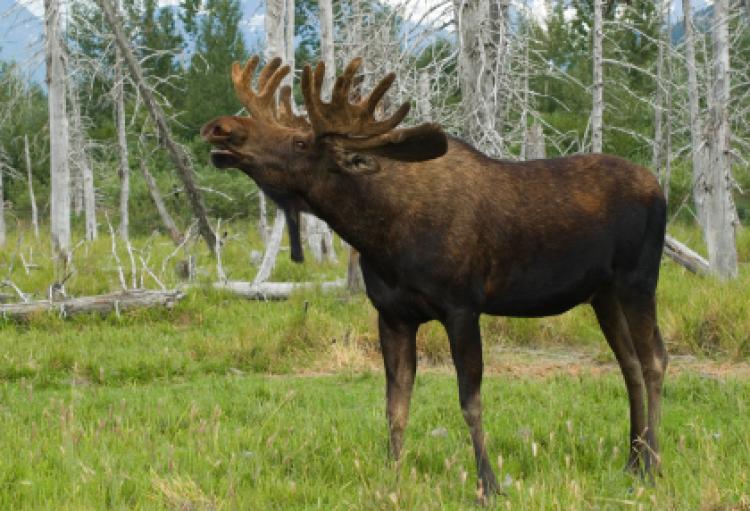 ©iStockphoto.com/Eliza Snow
One of the symbols of Alaska is the moose, the state's land mammal.
*** https://www.timeanddate.com/holidays/us/alaska-day